Labels

Monday, January 23, 2012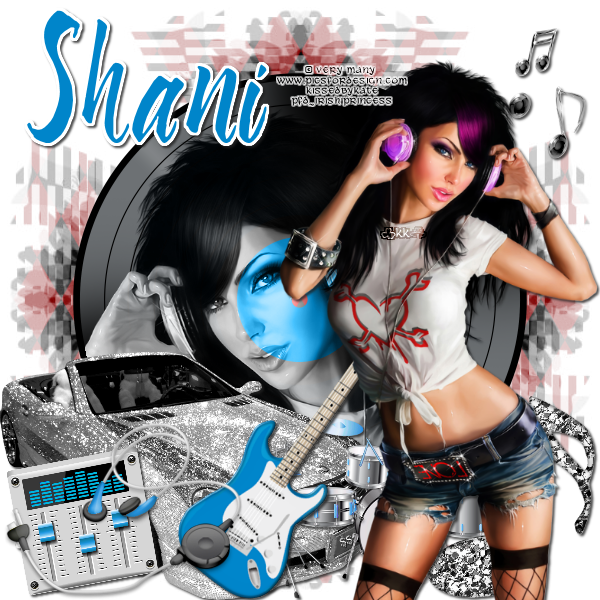 Any resemblance to any other tutorial or signature is merely coincidental and is not intended.
I am using the artwork of Very Many. You can purchase their artwork and a license to use them
HERE
you MUST have a license to their work
I am using Wicked Princess Scraps PTU kit "Jam Master You can purchase that
here
I am using the font: My Nerd
I am using Mask #159 from Weescotlass, you can get it
here
Pieces of the kit used in this tutorial are
Glitter Note

You must have working knowledge of PSP to complete this tutorial. This tutorial was written using PSPXII
Open new Canvas 600*600
Open PP7 and resize to 600*600. Paste apply mask and resize to your liking, Merge Group,
Open Record c/p to canvas, resize to your liking.
Take your close up tube and paste it on top of the record. Use the wand to select the outside of record, and select the outside of the record, invert and delete leaving the close up "inside" the Record. Apply Luminance Legacy. Paste full tube, resize and Place to your liking
Music Notes, resize and place under everything but the Mask
Car, resize to your liking and place to your liking
Drums, resize and place to your liking
Equalizer, resize and place to your liking
Headphones2 resize and place to your liking
Guitar resize and place to your liking
Glitter Note, resize and place to your liking
Apply drop shadow to your taste. Mine are all 2*2's
Resize the signature if needed
The name. Using My Nerd size 30 Color #0085ca. Select from Vector Layer, Expand by 3 pixels, New Layer, Floor fill with fffff, drop shadow
Add your copyright information and license number before save
Facebook Me

Blog Archive