Labels

Friday, June 22, 2018
Any resemblance to any other tutorial or signature is merely coincidental and is not intended.
I am using the artwork of
Enamorte
–. You can purchase this artwork and a license to use them HERE you MUST have a license to use this work (
6-3 Trapeeze
)
I am using the font
:
Bleeding Cowboys
I am using the Plugins
: Alien Eye Candy 5,
MuRa Copies
I am using kit:
"
Evol Carney
" From
Freeks Creations
you can find it here
I am using mask of your choice
I am using Drop Shadow -3 Vert, 3 Hori, Opacity 74, Blur 5.8 Color #202020
Pieces of the kit used in this tutorial are:
You must have working knowledge of PSP to complete this tutorial. This tutorial was written using PSPX8
New Layer, flood fill with Paper
3
, Apply mask and resize to your liking, Merge Group
C/P
Frame
, resize to your liking, Use Magic wand, select inside of the frame, Selections - expand, 5 pixels, New Layer, Flood fill with Paper
8
Paste Full tube, resize and place to your liking, drop shadow
Splatter
, resize and Place to your liking, drop shadow
Flags
, resize and Place to your liking, drop shadow
Ferris Wheel
, resize and Place to your liking, drop shadow
Flower 3,
resize and Place to your liking,
Apply Copies, Drop Shadow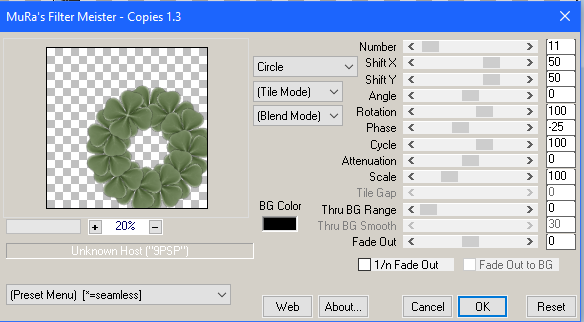 Poster
, resize and Place to your liking, drop shadow
Merry Go Round
, resize and Place to your liking, drop shadow
Balloons
, resize and Place to your liking, drop shadow
Umbrella
, resize and Place to your liking, drop shadow
Ticket Booth
, resize and Place to your liking, drop shadow
Clown Cluster
, resize and Place to your liking, drop shadow
Tickets
, resize and Place to your liking, drop shadow
Lion
, resize and Place to your liking, drop shadow
Word Art
, resize and Place to your liking, drop shadow
Resize the signature if needed
The name
: I am using the font:
Bleeding Cowboys
, size 20, #272e1e, Apply Eye Candy #d2c2ac, Drop Shadow
Add your copyright information and license number before save
Facebook Me

Blog Archive