Labels

Wednesday, July 31, 2013
Come to Cancun and enjoy drinking on the tropical beaches. Dig your toes in the sand and put a drink in your hand!
10 800*800 Papers (tagger Size)
60 Unique elements
This kit matches Alexis from Very Many, and is a collab between myself, Kizzed by Kelz and Inzipred Creationz.
You can find this kit at any of my stores.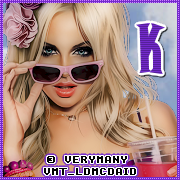 Made to Match "Alexis" by Very Many!!!
You can Buy this Hottie
HERE
Here is Nicky's portion check her's out on her blog:
Here is Kelly's portion check her's out on her blog:

Facebook Me

Blog Archive